The KTS Tone-Resonant Titanium guitar parts are highly regarded by many musicians and builders around the world,
and are an easy solution to upgrade electric guitars and basses without having to make any major modifications.
KTS's Tone-Resonant Titanium provides satisfyingly long sustain, immediate attack response,
and a clear and defined sound that will take your tonal palette to the next level.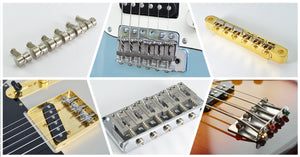 We are also happy if you purchase our products from our authorized international dealers.
Titanium neck plates custom-made by KTS have been adopted in the Japanese high-end Guitar brand "HISTORY"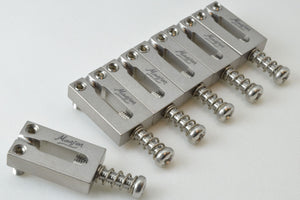 Manson Guitar Works Mat Bellamy signature model is equipped with block type titanium saddles with Manson logo, specially ordered by KTS.
Beauty & Resonance
Titanium Neck Joint Plate
Metal parts should be beautiful. KTS is not only concerned about sound quality but we also care deeply about the appearance. The photo shows a titanium neck plate which is popular for its matte finish. Although it is not a bridge part, it is a vital part that joins the body and neck and inherently affects the instruments string vibration. We purposely made it a little thicker and more rigid to take advantage of the lightness of the titanium material.
KTS neck plates are used for high-end guitar brands overseas such as Marchione Guitars, DeTemple Guitars, Manson Guitar Works, etc., and for anniversary models of AtelierZ in Japan. We can also produce small quantities with brand logos for manufacturers and boutique brands.
Learn More
KTS Inside..
Titanium Neck Reinforcements
In addition to bridge parts, KTS manufactures truss rods and reinforcements that are placed inside the neck to correct deformation caused by string tension and external conditions such as temperature and humidity. The photo shows Titanium Neck Reinforcement, a neck reinforcement material used by Ibanez, Atelier Z, MTD (Michael Tobias Design), and many other brands. It is a product for manufacturers and builders, and is not well known to the general public, but our products are helping in invisible ways as "KTS Inside".
Learn More
How's KTS?
Prolonged Sustain and Heightened Attack Response To Enrich Your Tone
This may sound like your typical exaggerated sales pitch but don't just take our word for it,
simply Google "KTS", "guitar parts" and "Titanium" and you will be able to find countless reviews and testimonials for our products.
We appreciate that tone can be subjective but we strongly believe that these comments will show you that
it is truly possible to achieve your dream sound.
Please see the below comments from some of the world's top players.
See More
Even if you have a high-end guitar..
For high-end guitars that have already been perfected in every way, modifying and upgrading parts may not seem like a necessity. But KTS saddles are surprisingly a favorite replacement for many high-end and vintage guitars. This is a video posted on Instagram by Steve Cocking, owner of Guitar Scape, a long established workshop in Australia, showing the sound of a Gibson ES-339 Custom Shop upgraded with a KTS titanium saddle.
Read More
What's KTS?
You'd think that these geeky parts would have been made as a hobby by a metal fabricator with a president who loves guitars...but you'd be right.
In 1996, we were involved in the production of titanium watch bands for the then popular CASIO G-Shock®
and decided to debut this new metal in the world of electric guitars as KTS Tone-Resonant Titanium Guitar Components...

Read More
To our KTS friends in America:
Purchase KTS products now from KTS-AMERICA.com. Get any product hassle-free from our official website with rapid shipping from Florida for a reasonable charge. Check us out.