Tim Pierce is one of the most trusted guitarists in the LA studio music scene, having played on albums by Michael Jackson, Bon Jovi, Joe Cocker, Celine Dion, Sheena Easton and many other big name artists. He has been a titanium saddle user since KTS's first appearance at the NAMM Show in 2000.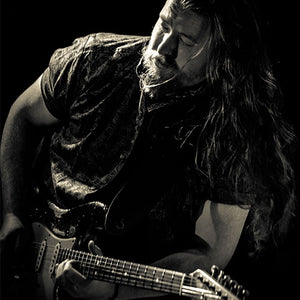 ' From the very first time I played a mate's guitar with KTS titanium saddles installed I knew I needed them for my guitars. Since installing them, it has really brought my already wonderful guitars to life! Like taking a blanket off them. So now all my gigging guitars wear KTS saddles.'
"I replaced the saddles on my Fender Nashville Tele which has graced hundreds of sessions. I know its voice intimately and I couldn't believe the difference, the increased focus, note and string definition were nothing short of amazing. My Gibson Custom Shop Tie dyed Les Paul, along with my Floyd Rose loaded Jackson PC-1 and San Dimas are also enjoying the benefits!"
"とにかくレスポンスが素晴らしく、スパーン!と気持ち良くピッキングに反応してくれます。シャキッと締まった音なのに、決して硬い音ではなく懐の深い優しい高音が抜群です。 ちょうどKinoFactoryにて自身のシグネイチャーを開発中ですが、当然ながら純正採用でKTSのチタンサドル搭載します。 こんなにもSweetで最高なサドルはKTSだけですね!これからも愛用し続けます!"
"最初 チタンサドルは、正直抵抗がありました。音がどうなるのか、想像がつかなかったので。
チタンサドルは、軽いため、音が軽くなりすぎないかなど想像してましたが、そんな事はなく、芯のある音で、抜けが良くなった感じがします。
そして、何より、僕が使用しているギターがビンテージよりのギターなので、ビンテージさが、無くならないか心配もありましたが、使用してみるとその心配は皆無でした。
イメージとしては、抜けが良くなり、まろやかだけど、ハイもあるイメージです。これからも、ずっと使用していきたいと思っています。"